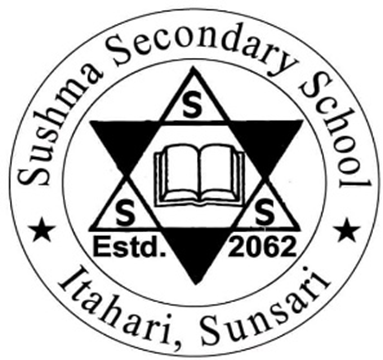 Sushma Secondary School
Pushpalal Chowk, Itahari , Sunsari
Mr.Bodhraj Nepal
Principal
Dear prospective students,
Along with the present needs of our students, education mu their future requirements. The profession is becoming competitive by the day. Such skillful manpower is needed who are culturally and socially adapted personalities capable to perform the tasks from them with full responsibility in any constraints. Your desire to move in that direction will be fulfilled with us. We assure you to equip you with sufficient knowledge to compete in your professional caree... See More
Mr. Uttam Parajuli
Co- Ordinator
EDUCATION IS A SHARED COMMITMENT BETWEEN DEDICATED TEACHERS, MOTIVATED STUDENTS AND ENTHUSIASTIC PARENTS WITH HIGH EXPECTATIONS"
Today, the role of a school is not only to pursue academic excellence but also to motivate and empower the students to be lifelong learners, critical thinkers, and productive members of an ever-changing global society. Converting every individual into a self-reliant and independent citizen, our school provides an amalgam of scholastic and co-scholast... See More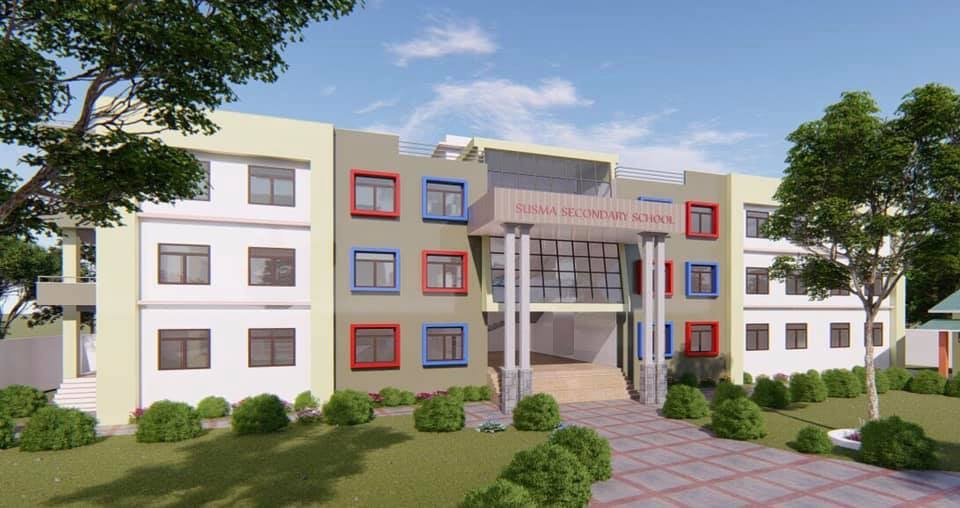 Sushma Secondary School is the first laboratory-based school in Province No. 1 to inculcate skills, values, and technology in the children in order to prepare students for the rapid transformation taking place in the social, economic, and technological arena within the country and across the world. we have set the quality benchmark in Higher Education in the region for over a decade. The journey that we have embarked on with laboratory-based school is another pioneering attempt in transforming the practice and philosophy of education in the province. we are the team of the reputed business community and education entrepreneurs
Admission is largely based on merits, a proven academic success, the potential contributions a student can bring to the community, and an enthusiasm for learning. We enroll students every year to fulfil the vacant seats available on merit base. Admission shall not be denied because of nationality, ethnicity, gender, or religious beliefs.
Applicant must submit the following documents along with the completed application form.
1.Letter of reference from the current school
2.An official birth certificate
3.Mark sheet and transfer certificate
4.Payment of the registration and other fees
Exam Policy and Monitoring
We integrate both the traditional formal exam system with modern thematic evaluation procedure through assessing individual performances. A series of class evaluations, observation of behavioral changes, performances in thematic assignments will be recorded and made available in the individual roster both manual and electronic forms for the parents. Every progress will be updated and parents can access to it in the school website through the Unique ID number provided at the time of admission. The report cards of the students' progress will be sent after each formal exam. The result of the final exam conducted at the end of the academic session and the internal evaluations made throughout the year determine the upgrading of the child.
Apply Now
Admission is considered on a prescribed Registration form which is attached to this prospectus The Official Application Form must be completed and registered by paying the registration fee. However, registration does not guarantee admission to school. Registration is followed by an Entrance Examination and an interview.
TO BE ELIGIBLE FOR ADMISSION THE CHILD'S AGE SHOULD BE
| | |
| --- | --- |
| AGE | CLASS |
| 2½ + years | For Class Nursery (Prep.I) |
| 3½ + years | For Class Lower KG. (Prep.II) |
| 4½ + years | For Class Upper KG. |
| 5½ + years | For Class I and so on. |
STEP I:
Complete the registration form and attach photocopies of all relevant documents. Submit your application form to the Admissions Office within the stipulated date.
STEP II:
Registration is followed by an Entrance Examination and an interview.
STEP III:
The results of the admission tests are put up on the school notice board within 3 days from the date of Entrance Examination.
STEP IV:
Selected students must complete the admission formalities within 7 days from the publication of the results of the Entrance Examination.
STEP V:
Pay admission fee, the annual charges, the school fee and other fees.
NOTE:
In lower classes, admissions are sometimes taken in the middle of a session. This depends on the number of seats available.
Apply Now