We are really pleased and excited about your success. This is a landmark in the formation of furnishing your future. Besides , you need to continue your sincerity to the subjects that support you to achieve your dream . Along with this , the way you are guided is vital .Our central concern is how to help students achieve successes by mobilizing the best resources available in the country. Every subject we offer cultivates both practical learning and creative engagement. The dedicated full tim... See More
Durga Datta Bhandari
Chairman
Dear Students, Guardians, Well-wishers and all the concerned ones! It is a great pleasure for me to write on behalf of Oxford Secondary School, located in the heart of nation's educational hub, Butwal. The first and unique Montessori program and grades one-to-ten have been running in separate blocks that have continuously been giving outstanding result with their academic independence, as a strong wing of Oxford Academy, the school has been running grade 11 and 12, offering academic exc... See More
Dinesh Bhusal
Principal
Dear Students, Guardians and Well-wishers, It is a great pleasure for me to write few words on behalf of Oxford Secondary School, located in the heart of nation's educational center Butwal. The first and unique Montessori program and grades one-to-tenth have been running in separate blocks with their academic independence. Likewise, as a strong wing of Oxford Academy, the school has been running grade 11 and 12 in both morning and day shifts in separate building. Oxford always leads to th... See More
Suman Bhusal
Vice Principal (XI & XII)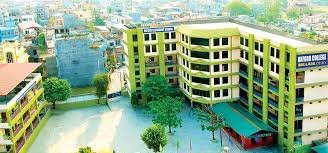 With an objective of generating quality education to our pupils via innovative teaching techniques, child friendly environment and through fully digitalized classrooms, which is the only necessity of the ever changing world, oxford secondary school was established in the year 1991 A.D. to facilitate the public of province number 5. Ever since its establishment, Oxford Secondary School has secured a recognized place among Nepal's reputed schools and colleges with its dedication to the quality education throughout its journey so far and even in the days to come.
Adoption of learners centered teaching techniques, and provision of homely environment are two prominent features of our school that have made it possible for us to stand ourselves as one of the leading institutions in province number five in the academic world. Accreditation received from Civil Unification Society in the year 2076, production of the youth scientists, national singers, national players and our scholars getting free ship in diverse national and international universities are all enough to justify ourselves as the operose workers in academic field. Along with that, the emphasis given on moral education to generate moral and ethical values in among our children, practical and life related education to ensure overall development of the learners who definitely will assist the mainstream of communal and national development as well takes us to the pinnacle of success.
It believes in stimulating students' creative and critical thinking power, and heightening their moral sensitivity through its curriculum execution, value education and extra-curricular. It encourages learners to be the seekers of truth and to take responsibility as alert of the world in order to face tough competition posed by the fast growing knowledge of science and technology and that of management. In order to fulfill the vow that we made, we have been offering different qualitative academic streams through different wing and sister organizations. Montessori block offering Montessori based education, school block offering qualitative education to the learners from grade one to ten, grade 11 and 12 block offering quality education in almost all the streams (science, management, humanity, and education). Similarly, oxford college being the sister organization gives academic service to BHM, BIM, BBS, and B.ED students and Ideal school being sister organization are all the ones to make us reach to the crest that we are in. We always serve for the well being of our learners, community and the entire nation.