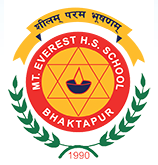 Mount Everest Secondary School
Suryabinayak , Bhaktapur
Mount Everest School is an independent, co-educational school, established in 1990 with the aim to provide students necessary educational and experience to set themselves up for their future career path. This school has completed a glorious history of 27 years and it has been thriving with the success of every student, whom we consider a valued member of our school. We are dedicated to make every students intelligent, innovative, responsible and capable to cope and overcome all the difficulti... See More
Mrs.Sangeeta Hamal
Principal
I have the great pleasure to state that Mount Everest School has successfully created a sound academic culture consists of self realization, motivation dedication and innovation. This school is devoted toward the overall development of the students. It gives emphasis on quality and competence. After the completion of the school level education, our pupil will find themselves competent and potential candidate for the higher education and professional career.
See More
Prof. Dr. Prabha Hamal
President's Pen
Mount Everest School is an independent, co-educational school, established in 1990 with the aim to provide students necessary educational and experience to set themselves up for their future career path. This school has completed a glorious history of 27 years and it has been thriving with the success of every student, whom we consider a valued member of our school. We are dedicated to make every students intelligent, innovative, responsible and capable to cope and overcome all the difficulties, and get focused to achieve their goals.
The official admission process begins from 1st Chaitra every year but as the seats are limited, you will be able to reserve seats prior to the date once you are notified of your child's selection.
Yes, our school offers varied scholarships to students on a need-cum-merit basis.
Scholarships are provided on the basis of merit as well as criteria set by NEB. Student candidates are required to appear in scholarship exams held by the school for which the school admission desk provides you with the dates and time of exam. Selection is transparent and fair and thus, it is mandatory to pass out the scholarship exams.