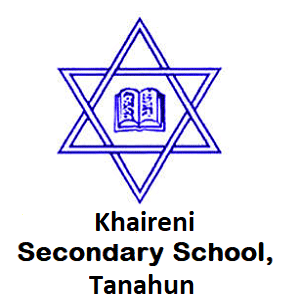 Khaireni Secondary School, Tanahun was established in 1971 (2028 BS) as a public academic institute located in Shuklagandaki Municipality -6, Khaireni, Tanahun district Gandaki Province of Nepal. It is affiliated with National Examinations Board (NEB) and approved by the Ministry of Education, Science, and Technology (MoEST). This secondary school offers Ten Plus Two (10+2) programs under the Education, Humanit... See More
Bodhraj Dhakal
Principal
Khaireni Secondary School is located at Suklagandaki-10, Khairenitar, Tanahun. It is a leading community school in Tanahun districtestablished in 2026 BS. The school has started its plus two program since 2065 BS with the growing demand of higher education in this area. It offers plus two program in Education, Humanities and Management affiliated to NEB. Currently, about 960 students are studying from ECD to grade twelve.
Spread over 39 ropanis of land, the school is rich in physical infrastructure. The school has well-equipped computer and science lab which was built with the support of Room to Read. The school is also planning to add more rooms for library, auditorium and science lab. For quality enhancement, the school has implemented full English medium from Nursery to grade five and both mediums English and Nepali from six to ten. The school also provides extra classes in difficult subjects like English, Maths and Science. Some teachers are appointed from the internal source of the school for quality enhancement.
Besides academic performance, the school focuses on extracurricular activities. Most of the district level sports are held in the premises of this school. This school is widely recognized as a leading school for sports in the district. It also aims at developing this school as a unique school for both academic as well as ECA performance.