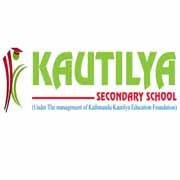 Kautilya Global School
Subidhanagar, Tinkune , Kathmandu
I am privileged to be a part of KAUTILYA GLOBAL SCHOOL, which I reckon has to come a long way. As we have a common vision to establish a unique institution providing quality education of an international standard and focusing on a holistic education, I am quite optimistic that it will stand out from the existing institutions in the country. I would like to assure you that I will leave no stone unturned to take this institution to a great height of success.See More
KAUTILYA GLOBAL SCHOOL was established in 2052 B.S. with the view to maintain true modern-day marvel, one of the best and high standard quality education centers catering at the heart of Kathmandu, Nepal. It has been upgraded as Global Standard School with its aim to provide quality education with activity-based learning programmes.
KAUTILYA GLOBAL SCHOOL, a Global Standard School possesses ample scope for expansion and aspiration to develop more academic programmes assisted by modern technology in school and higher levels.
The School has excellent infrastructure supported by state-of-the-art facilities such as modern academic buildings with spacious classrooms, laboratories, conference hall, administrative offices, spacious playing ground and so on. As a matter of fact, the school will surely become the pride of the nation in the future. We have committed to putting our heart and soul into the execution of the noble solemn and sacred task.
Vision
To be a leading international educational institution in the country and produce highly innovative, competent, compassionate, and responsible citizens who aspire to achieve their full potential.
Mission
To provide education compatible with global standards explore and harness the potentiality of students and create an inclusive environment that builds a foundation for lifelong learning.
Objectives
To educate all the students to the highest levels of academic achievement, and enable them to reach and expand their potential, and to prepare them to become productive, responsible, ethical, creative and compassionate members of society by building their emotional, social and physical well-being.
Our Core Values
We give emphasis on the core values of education to produce mentally, physically and spiritually sound citizens capable of coping with the challenges of the 21st century.
Sailent Features
Multimedia Classroom
Fully equipped Labs (Montessori, Science, Computer, etc.)
After school class activities
Day Boarder facilities
Transportation
Large and well-equipped playground
Spacious classrooms with limited students.
Individual guidelines, instruction, and assessment.
A wide range of extra-curricular activities such as (scouts, swimming, music, dance, judo, taekwondo, football, basketball, etc.)
Junior classrooms are facilitated with corners (with reading corners, play corners, napping room, story corners, etc.)
Interactive and project-based teaching
Provision of smart boards
Provision of hot lunch and snacks.
Earthquake Resistant Buildings