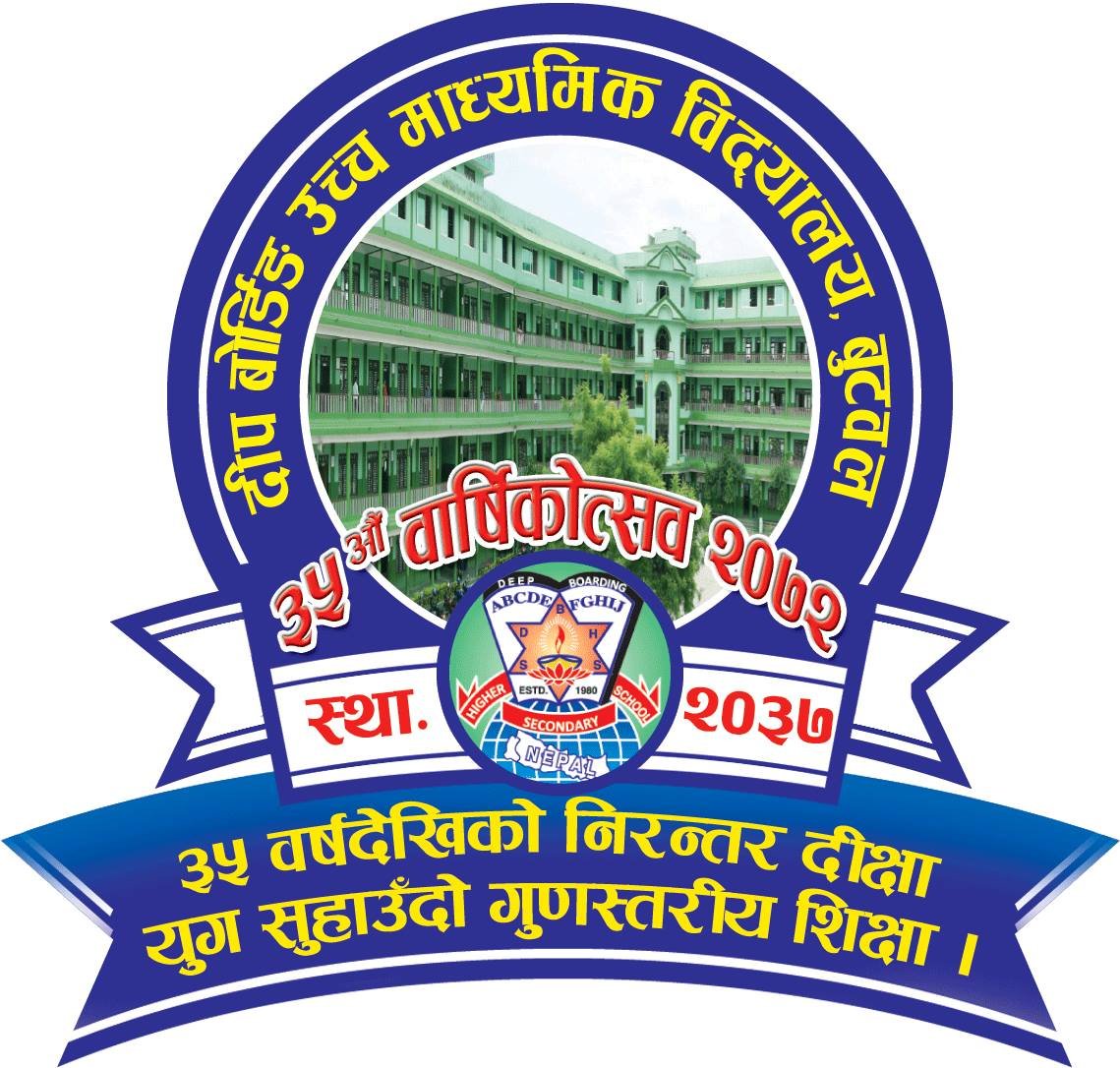 Deep Boarding High School
Sukkhanagar-8, Butwal , Rupandehi
Mr. Rajendra Prasad Dhoju
Chairman
Dear Readers,
I'm very much inclined to introduce what 'Deep' real!y is . Deep is a deep (Deep) storage of light of knowledge (Deep). It is the intellectual out come for the scholarly interaction among a cohesive team of dynamic and managerial professionals and distinguished academicians from different sectors. It has a prolonged plan for catering a career oriented quality education to its scholars to make them well cultured and holistically developed in the future.See More
Dear students and respected guardians,
It gives me an immense pleasure to introduce Deep Boarding High school and its academic faculties through this website. Deep Boarding High School, established in 2037B.S., has successfully completed 39 years playing great/vital role in the realm of national education producing skilled manpower. I would like to express my gratitude to the management committee members, teachers, staff, guardians and students and to all the well wishes for their kind... See More
Our Network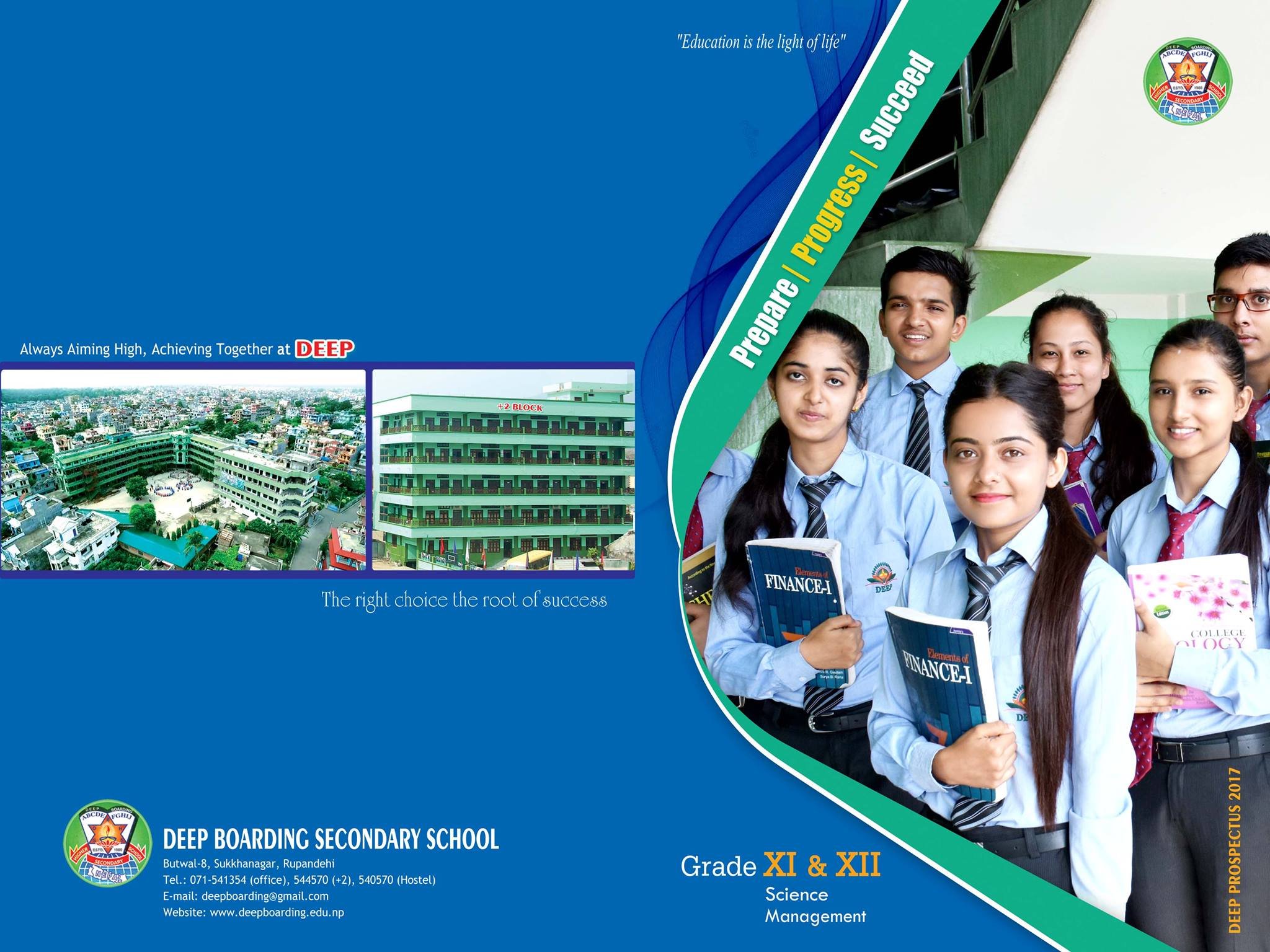 Deep Boarding High School, which was established in 1980 with profound aim of enhancing knowledge of the students through practical education, has already celebrated its silver jubilee in 2005. The school has been 'Deepakalizing' the society and the students with the bright rays of education since its establishment with the motto 'Education is the light of life.'
The school believes in practical based quality education. So, it not only gives emphasis on reading and writing but also gives equal emphasis on extra curricular activities for all round development of the students. In its friendly educational environment, it provides the students opportunities to cultivate their minds. The school is deeply concerned about the discipline and behavior of its students. Eventually the goal of the school is to produce dynamic and responsible citizens for the nation to meet the concept of ' New Nepal'
The school has got young and energetic team both in management and teaching field. It has got well, qualified, experienced and devoted teachers / facilitators for good guidance. The school has managed level wise co-ordinators and department heads to maintain good academic performance in the school. The school does have approximately all prerequisite for a good academy like school building, class rooms, library, computer lab, science lab, first aid section, pure drinking water, account section with computerized account system etc.
Deep Boarding High School has come up to this stage due to the marvelous effort of management committee, executives, teachers, parents and students. The pleasant fragrance of quality education of the school can be felt from the results of SLC / SEE held in the previous years. The school has been getting 100% result since long.
School Location:
Deep Boarding High School, a five storied building is situated at Sukkhanagar, Butwal-8, Rupandehi. The building is in five minute's walk to the east from the heart of the city, Milachowk. It is very much close to, the west of, Butwal Hill Park. This scholars' home has a hostel with homely environment. The hostel has been divided into two sectors for boys and girls. It has the capacity of about 150 students. As teaching and non teaching staff, the school has appointed 75 enthusiastic, devoted, loyal, dexterous, elegant and qualified personnel. The School has a good canteen for teachers and Students. It has computerized account system. In addition students are provided pure drinking water filtered by Euro Guard System.
The school has been encouraging the students by providing free ship and scholarship facilities to the children since its establishment. Only disciplined, labourious and studious students can achieve this facility. Free-ship and scholarship are provided under some terms and conditions.
They are:
Students are provided with all sorts of facilities that have been declared to provide the students by PABSON and Government of Nepal.
The guardian or parents should apply to the office of the school for the free- ship and scholarship before 15th of Baisakh of every academic session.
Level first, second and third students are provided with 100% free facility. There are three levels ie. Nursery and KG?1st level, One to Five ? 2nd level, and 6 to 10 ? 3rd level. And class first, second and third students are provided with 100%, 75% and 50% discount in their monthly fee respectively.
The students who reveal outstanding performance in extra curricular activities are provided with 25% to 100 % discount in their monthly fee as per their performance.
If any student secures 90% marks in grade 8 [Basic Level Certificate Exam], he/she is provided with hostel facility free.
Disabled and helpless students are provided with free-ship facility as per the government policy if the students are talent in study.
If the total fee of an academic year of a student is paid, he/ she is provided with 10% discount in the amount and if 6 month's fee is paid, 5 % discount is provided.
Freeship or scholarship will not be provided to any students on the basis of their numbers. For the achievement of any scholarship or freeship the student must be morally well behaved and has to pass the exam fairly. Beside it, he/ she must have 90% attendance.
If students are able to secure 90% in the final exam of grade 9, they will be provided with free hostel facilities. More over, if new student in grade nine is able to secure 90% in entrance exam, he / she will be provided with 100% free-ship according to economical condition of the students.
The school has been awarding with medals and certificates to those students who are able to reveal outstanding performance either in extra activities or in SLC examination. The awards are.
If the students secure more than 90% marks in SLC examination, she / he is honored with Deep Gold Medal Award and certificate.
If the students in extra curricular activities are able to get first, second and third position in district level competitions, they are awarded / honored with medals and certificates.
Apply Now
Admission to the school is made through an entrance test which is held in the beginning of the academic year.
Admission forms are issued from the last week of Chaitra from the account section. After filling it, it must be submitted to the office.
The entrance test will be held for the following subjects for the following classes / grades: From KG to Five: Nepali, English and Maths From Six to Nine: Nepali, English, Maths and Science (Full marks 25 in each subject]
The result of the test is published after one day of the test and the students must be admitted within 3 days of the result publication.
Admission form along with the required documents should be submitted for admission. Required documents are :
Admission for nursery starts from 15th Chaitra every year.
Document Require to Admission:
I) Transfer Certificate
II) Character Certificate.
III) Mark-Sheet.
IV) Birth Certificate (For Nursery only)
Note: The date of entrance test will be published in local newspaper or broadcasted from F.M. radio 15 days before the test.
Apply Now